9-13 July 2012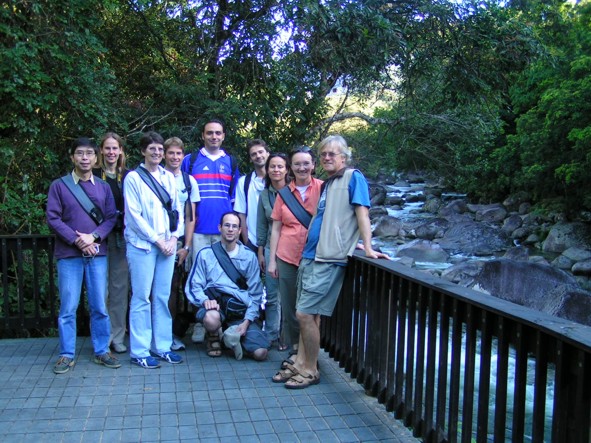 From the Daintree to Pambala-Chilaw Lagoon
In line with the 2006 MMM2 workshop at the Daintree mangrove forest organised by Norman Duke, which lead to the publication in Science entitled A World Without Mangroves (Duke et al., 2007), the MMM3 post-conference workshop in Sri Lanka will be organised at the premises of the Small Fishers Federation of Lanka in Pambala-Kakkapalliya along the Pambala-Chilaw Lagoon Complex.  The MMM3 Workshop will consist of identifying research gaps and understanding mangrove ecosystem functioning through brainstorming and joint field visits.  There are no oral or poster contributions in this workshop.  Participation is limited to participants of the MMM3 Coneference and has a limited number of places.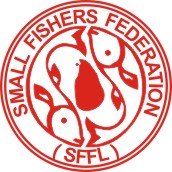 The Small Fishers Federation of Lanka

In 2012 the Small Fishers Federation of Lanka/Sudeesa (SFFL) celebrates its 20th anniversary.  Founded in 1992 the Small Fishers Federation was set up as a development network of small-scale fisher folk organizations in Sri Lanka. Small scale fisher folk are one of the most socially and economically vulnerable groups. They are engaged in fishing in shallow waters of the sea and also inland fishing areas using very primitive fishing gear. Their average income is less than 10 EUR per month and 84 percent of them are living in lack of basic needs. The Federation represents these fisher folk in the islands. It's an approved charity and a non-profit non-governmental organization, which is incorporated under regulations for the Monitoring of Receipts and Disbursement of Funds by NGOs and is registered as a company. As an umbrella organisation the Federation is conducting advocacy, economical, social and educational programmes to strengthen and empower the small fisher community on self-reliance.


The SFFL Headquarters at Pambala-Kakkapalliya
SFFL has several branches along the Sri Lankan coast, , but its HQ is located in Pambala-Kakkapalliya.  Among the other branches we also find the Kiralakele Mangroves Resource Centre in Ambalantota where juice, jam or ice-cream from Sonneratia caseolaris (L.) Engler can be tasted (see MMM3 mid-conference excursion 1).  The HQ has a wide series of facilities including furnished researcher accommodation, dormitories, catering, conference rooms, computer rooms, and a Mangrove Conservation and Demonstration Centre with all equipment to nurse and transport mangroves around the lagoon.  The HQ is located adjacent to the Pambala mangrove forest.
The Pambala-Chilaw Lagoon Complex

Our venue is Pambala (07°30′ N, 079°49″ E), also called the Pambala–Chilaw Lagoon complex, the southern part of Chilaw Lagoon on the west coast of Sri Lanka, located in the island's intermediate climate zone.  The system is about 17 km long and 4.5 km wide. The mangroves here are of the fringe or riverine type, and have a rather irregular distribution along a complex of creeks (Marambettiya Ela, Bate Ela, Pol Ela and Dutch Channel). There are, however, no rivers streaming directly into the lagoon. Most freshwater influx stems from the Karabalan Oya / Lunu Oya catchment (and possibly from the Deduru Oya) and rainwater runoff channels from inland to the lagoon discharging into the lagoon at regular intervals. In- and outflow from and to the sea is possible at Chilaw (07°35'48" N, 079°47'25" E) and Toduwawa (07°29'30" N, 079°48'16" E).  The main canal connecting these points is the historic Dutch Channel.

With 17 mangrove species, excl. an introduced Nypa fruticans (Thunb.)Wurmb. and an as yet unidentified specimen of the genus Rhizophora (Jayatissa, Abeysinghe, Dahdouh-Guebas, Duke, Hettiarachchi, Triest and Koedam, unpublished results), they constitute the most species-diverse mangrove along the south-western coast of Sri Lanka. The nearest important mangrove forests (both in terms of area and ecological functioning) to Chilaw Lagoon are located in Negombo Lagoon and Puttalam Lagoon, about 40 km away along either side of the coastline.

Pambala is a relatively unaffected mangrove site that has been proposed for conservation by IUCN. The mangrove areas of Chilaw Lagoon have for a long time sustained the subsistence economies of the surrounding human communities, especially through provision of firewood, poles, posts, tanbark and also crabs, shrimps, molluscs and a variety of finfish for consumption.
The MMM3 Pambala-Chilaw Lagoon Workshop
Tentative program
Saturday 7 July 2012
Morning :Trip by coach to Colombo
Afternoon :Free time in Colombo
Evening :Socialising dinner at the Green Cabin and night at Global Towers Hotel
Sunday 8 July 2012
Morning :Guided visit / Free time in Colombo
Afternoon :Departure to Chilaw Lagoon
Evening :Socialising dinner
Monday 9 July 2012
Morning :Welcome to SFFL, Introduction to the workshop, Definition of the workshop objectives and tasks, exploring possibilities for joint fieldwork and publication (round table)
Afternoon :Visit of the mangroves of the Pambala area by foot, exploring possibilities for joint fieldwork (field)
Evening :Defining research gaps
Tuesday 10 July 2012
Morning :Visit of Dutch Cannel and Bate Ela, Pol Ela, and mangrove plantations of SFFL (1994-1996-1998) by paddling boat
Afternoon :Brainstorming in group
Evening :Brainstorming in group
Wednesday 11 July 2012
Morning :Visit of the mangrove rehabilitation areas in Kalpitiya (Puttalam Lagoon), planting mangroves with Kalkudava Fisherwoman Society with lunch at Anawasala
Afternoon :visit to the Sri Lankan west coast (facing the southernmost tip of India)
Evening :free time
Thursday 12 July 2012
Morning :Brainstorming in groups
Afternoon :Brainstorming in groups
Evening :free time
Friday 13 July 2012
Morning :Wrap-up of the workshop, Definition of tasks for the weeks to come
Afternoon :Departure of the participants
Evening :Departure of the participants
Saturday 14 July 2012
Departure of the participants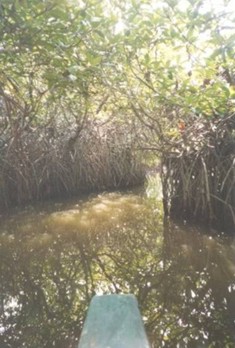 Registration fee
The MMM3 Pambala-Chilaw Lagoon Workshop has only a limited number of available places and is open to MMM3 Conference participants only.  Participation in the workshop includes transport from the MMM3 Conference venue in Matara to the MMM3 Workshop venue (± 250 km on 7-8 July 2012), hotel accommodation and guided tour in Colombo on Saturday 7 July, accommodation in Pambala-Chilaw Lagoon on Sunday 8 July 2012), and access to the workshop venues and facilities, transport, accommodation and catering (breakfast, lunch, dinner and tea-breaks) at Pambala-Kakkapalliya from Monday 9 July 2012 till Friday 13 July 2012.  The price for participation is 500 EUR and should be indicated and paid together with your MMM3 conference registration [discontinued].  No MMM3 funding is available to cover participation in the MMM3 Workshop.
MMM3 Workshop peer-reviewed publication
The organisers have negotiated the publication of the MMM3 Workshop as a special issue of the peer-reviewed rated scientific journal Global Ecology and Biogeography (Lee, S.Y., J.H. Primavera, F. Dahdouh-Guebas, K. McKee, J.O. Bosire, S. Cannicci, K. Diele, F. Fromard, N. Koedam, C. Marchand, I. Mendelssohn, N. Mukherjee, S. Record, 2014. Ecological role and services of tropical mangrove ecosystems: A reassessment. Global Ecology and Biogeography 23: 726–743. http://doi.org/10.1111/geb.12155)